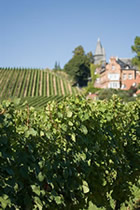 New York is the 3rd largest wine growing region in America and Long Island is considered the premier area in the state for wines - producing over 500,000 cases of wine annually. Today more than one-million people visit the 50+ wine producers on Long Island, taking advantage of their tours, tastings, and event hosting.
Come see what the fuss is all about.
Welcome to LongIslandWineries.com, your one-stop-shop for all things related to wine in Long Island. Here you can easily find the winery that is perfect for your upcoming event, outing, or tasting. Using our user-friendly, click-as-you-go guide, you can find out where a winery is located, whether other wineries are nearby, their contact information, a comprehensive description of what they have to offer, user reviews of the wineries and more!
Feeling a little rusty on your wine knowledge? We'll get you caught up in no time in our regularly updated Q&A article and advice section.
We wish you the best on planning your event - whether it be for a wedding, or simply a leisurely afternoon.